Jack Frost, holding a ring neck drake at Curtis Lake, near Coloma, Wisconsin
(November 1988)
In December of 1996, Jack Frost, founder of Frost Waterfowl Trust passed away. Jack was a friend to all of us who enjoy waterfowl. He worked tirelessly to produce the best in his field. Many of his peers agree he succeeded.
A group of his longtime customers and his family have partnered to produce "Frost Birds" as they are known by many. Jack's commitment to excellence and the principles he believed in will be continued. You have our promise on that!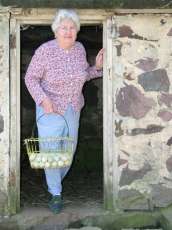 Mrs. Frost better known as "Gramma Duck" still upholding the frost tradition.